Mercedes A35 AMG Tuning Box
Mercedes A35 AMG 2.0 306PS 
 The W177 Mercedes-Benz A-Class is the fourth and current generation of the A-Class range of subcompact executive hatchbacks and saloons. It was launched in 2018 as the successor to the W176 A-Class, with sales commencing in March 2018. The A35 AMG was launched in 2019 and is equipped with a 2.0 4 cylinder  Petrol engine producing 306ps and 400nm. Our technical partners DTE Systems developed a plug and play tuning box in June 2019 that we offered via our website several days later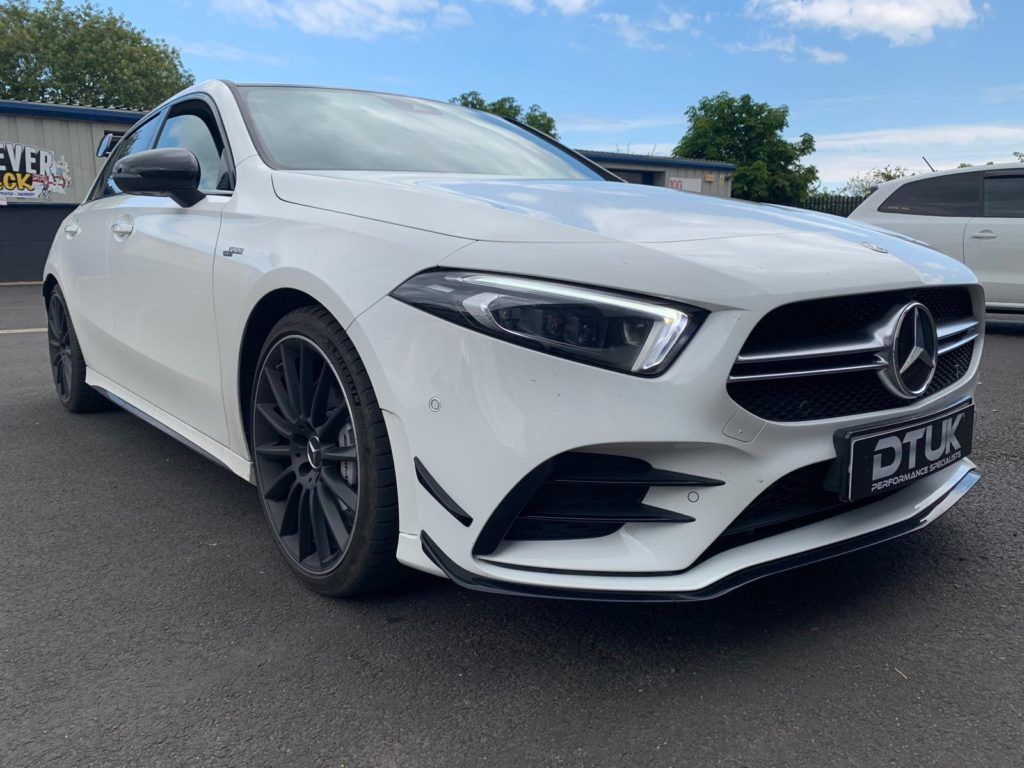 Mercedes claimed stats for the A35 AMG  are 306ps and 400nm, during our development stage the standard car that was used to develop the tuning box produced 319ps and 409nm, little more than expected. With the tuning box added we saw gains of 32ps and 65nm giving an actual result of 351ps and 474nm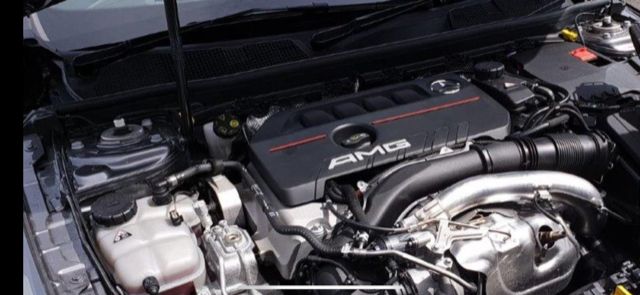 In July 2019 a customer contacted us who owned a Mercedes A35 AMG and was interested in tuning his car. This was after reading our website and seeing that the expected gains after installing the mercedes tuning box were 340PS and 465nm of torque. 
Mr C Onsumer came to visited us on July of 2019 and at the time we took the opportunity to use our V-Box timing equipment. Mercedes claim a 0-60 time of 4.5 seconds, and the car in stock form matched these figures – ( see below)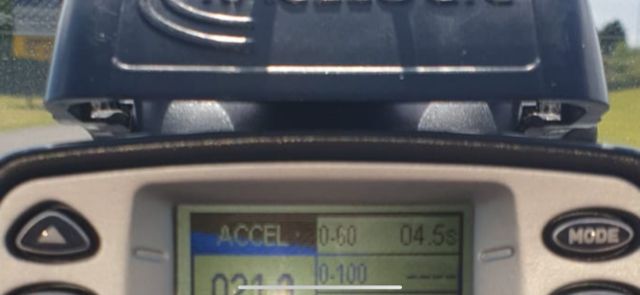 After our testing and diagnostic checks we proceeded to install the tuning box to his A35 AMG. This is full plug and play and makes 3 connections connecting to the boost sensor, map sensor and camshaft sensor. The camshaft sensor connection gives us an RPM reference which is very important when tuning the latest petrol engines. This reference makes things a lot more accurate and allows us to tailor the tuning box in a very safe and precise way.
Once the box was installed we proceeded to take the car for a test drive, and yet again we added our V-box timing equipment. ( see below)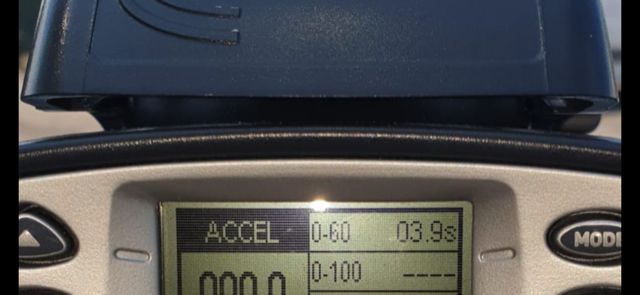 As you can see above the Mercedes A35 AMG equipped with the DTUK tuning box is now capable of a 0-60 time of 3.9 seconds!!!! This time actually matches the claimed 0-60 time of the brand new Mercedes A45S AMG that is due to be released later this year. ( for the record that car has 420ps and 500nm) 
If you would like to purchase a tuning box for your A35AMG then please CLICK HERE.
As we've mentioned, as a company we try to be as honest and transparent as possible and hope that after reading the information above that you trust us to tune your Mercedes. In fact, if you're reading this article we hope that you feel confident enough to trust DTUK to tune whichever Mercedes you have.
If you have an Mercedes and you'd like to see what benefits adding a DTUK tuning box to your car are, then please CLICK HERE to see what we can offer you. (Use code BOX10 at checkout and save 10%) on all purchases
Thanks for taking the time to read this post and if you have any questions then please don't hesitate to contact us.
Andrew ( MD/Founder/)