Over 20 different possible combinations
First, choose your program
CITY (Green): Works well in and around town and on slippery surfaces
SPORT (Yellow): This is the default mode and suitable for everyday driving
SPORT-Plus (Red): The quickest possible throttle response, great for the thrill seekers
Stock (White): The car is in stock mode
Then, make fine tuning adjustments
Once you have selected a program, you can either increase(green/plus) or decrease(red/minus) it's intensity.
Installation made simple
Installation only takes a few minutes in a few easy steps. The PedalBox comes pre-programmed and requires no complicated setup procedures, the fun starts NOW!

PerfecTune: Automatic Custom Tuning*
The new feature PerfecTune makes it possible: In just 3 easy steps you can get the right setup, perfectly suited to your car's accelerator. So precise and easy!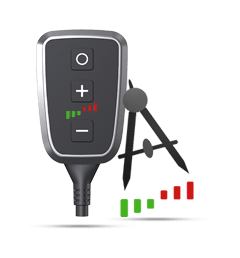 Automatic custom tuning for your individual car
Connect your PedalBox+ with the accelerator and get the PerfecTune programming started.
PedalBox+ automatically analyses and auto-calibrates to your accelerator's characteristics via PerfecTune, while you are pressing down the throttle.
Done. All programs are now perfectly custom-tuned to your individual car.
Multi Protocol Technology*
The PedalBox+ with the latest multi protocol technology supports all current vehicles with modern accelerator technology.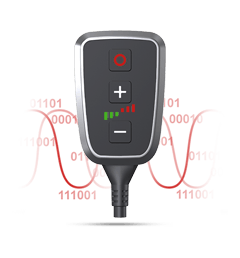 PedalBox Plus suitable for all cars with modern accelerator technology
High-performance microprocessors with the latest DSP technology ensure a more accurate and faster signal transmission for an optimal tuning result.
The new Multi Protocol technology of the PedalBox+ is also available for the latest SENT digital accelerator technology. Therefore the new PedalBox+ is the most advanced PedalBox thanks to 3 analogue channels and 1 PWM channel.