Are you looking to tune an Volkswagen MK7 Golf GTD 2.0 TDI 184PS?
The MK7 Volkswagen Golf GTD was released in 2013 and was fitted with the VW group's new EA888 Diesel engine. In standard form this 4 cylinder diesel engine produces 184ps and 380nm. (181hp and 280lbft in old money)
This engine can be found in many offerings from the VW group including the VW Golf GTD Skoda Octavia vRS, and the Seat Leon FR
In September 2013 we took delivery of our own Skoda Octavia vRS and we started the development of our tuning box for this great new engine.
Initial results were great, infact our headline figures were and are 240ps and 500nm. Since 2013 we have tuned 1000's of these engines and youll find lots of positive feedback and videos posted by customers on youtube and facebook.
Here at DTUK we like to be as transparent as possible and instead of using
computer generated dyno sheets we prefer to use dyno sheets from our customers. This not only is great feedback for us, it also helps any potential customers see unbiased independent feedback,
This is a dyno sheet we received from a VW Golf GTD customer whom had purchased our CRD3+ for his MK7 GTD in 2017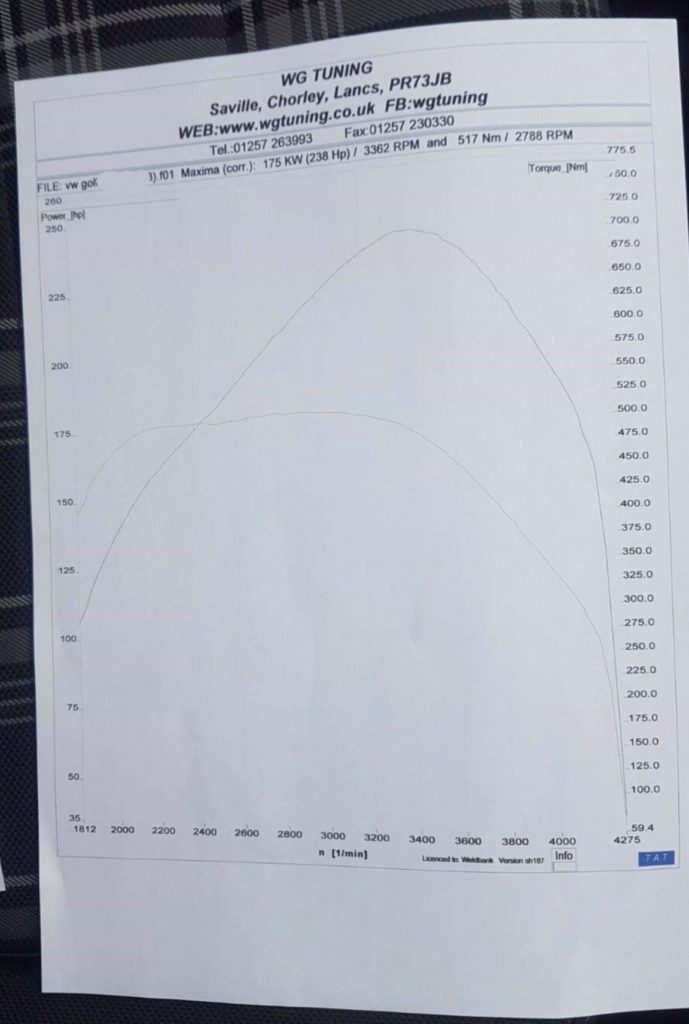 GOLF GTD ROLLING ROAD RESULTS
As you can see, the results in this instance virtual match our claimed figures of 240ps and 500nm, theyre actually 243ps and 517nm.
As mentioned above, as a company our ethos is to be as honest and open as we can, and only today we received another dyno sheet from a local Revo dealer called BTG Performance who are based near Newcastle.
A DTUK customer had taken his MK7 Golf GTD along with his CRD3+ Diesel Tuning box to their premises for a dyno run to see exactly what his car was producing.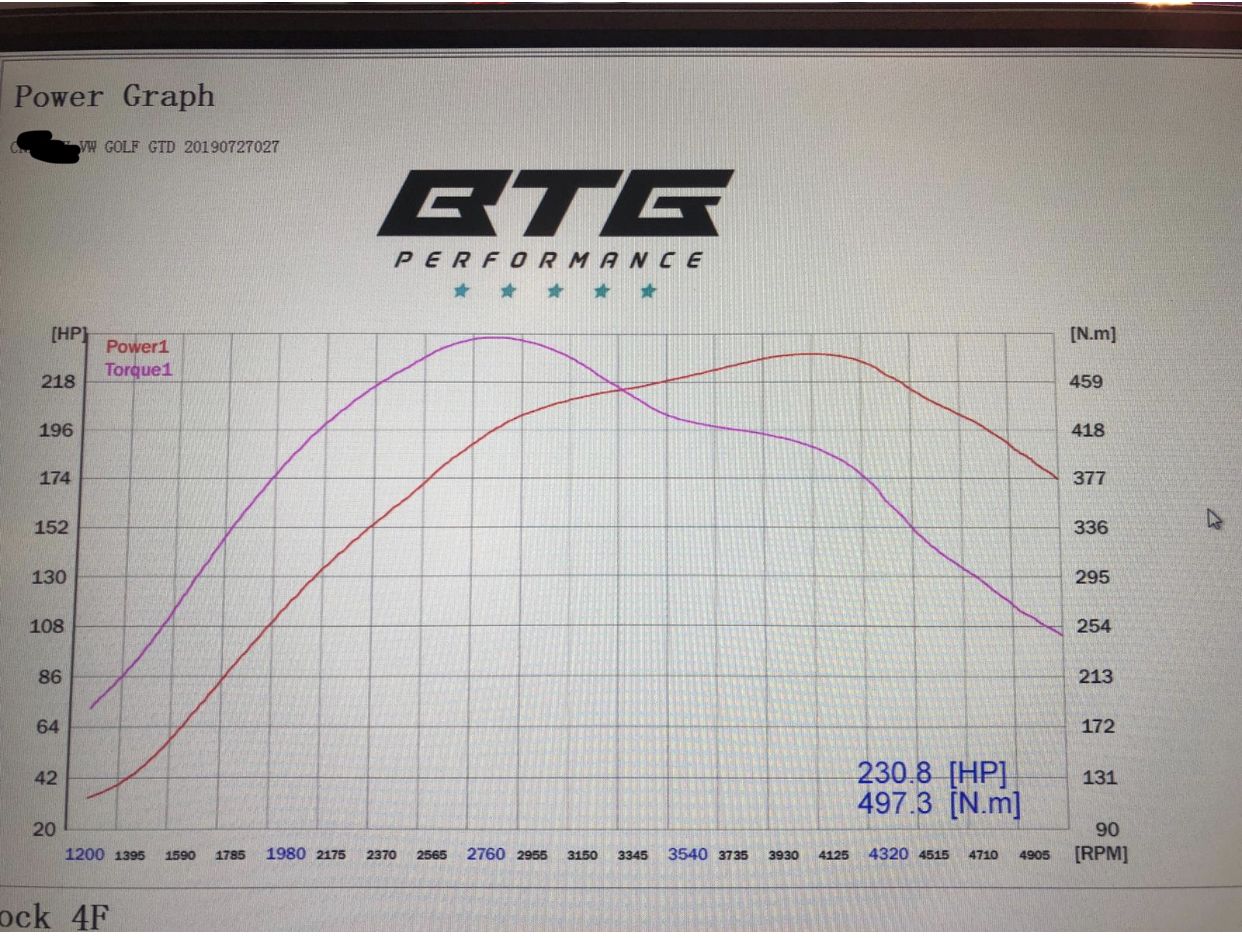 In this instance the figures are a small amount below our claimed 240ps/500nn and 234ps and 497nm. I'm sure you'll agree that yet again the results speak for themselves and show that DTUK consistently offer customers real performance increases.
Some customer feedback from 2015…
Golfgtiforum.co.uk 21st Feb 15 Following a chat with Andrew earlier this week (cheers Andrew), I finally got round to ordering and fitting a Trevor to my GTD. Installation was easy enough, it was spitting rain but didn't take me too long to complete the install following the install guide to the T and routing my cables as per the recommendation. Removing the common rail sensor was probably the hardest part, but only due to not fully understanding what part needed squeezing for release (checking Trevor's cable helped with this.) I've been for a few drives now over the last few days and … :laugh: My initial impressions (from the night of fitting the box) were of slight disappointment, but this was mainly due to the roads being absolutely water logged but also the increased speed not giving quite the sensation I was expecting. I had built quite a mental image of how the extra power would feel from reading everyones accounts, but the delivery is so smooth and refined it really takes you off guard. My second day of driving (on dry roads, as opposed to water logged from my first evening!) it was clear just how fast the car is nowI was adjusting to the feel of the extra torque, but even more so just seeing how quickly a car was disappearing behind you when you gave it some beans. I've briefly tried 1+1, 2+1 and they do seem to have more power low down, but as per MonkeyHanger's recommendations I am finding 3+1 great. It doesn't do too much to the car at low revs, but still gives you everything from 1800/2000, with what feels like a nice extra surge around 2400. I'm going to keep it on 3+1 for a week or 2 before trying 2+1. But from my understanding of the maps so far, I think 3+1 will give the best MPG overall. 1st and 2nd gear are terrific. My car will tramp in 1st (although only in the first half of the gear), but I haven't had any tramping at all in 2ndboth from standing starts and flooring it from 10/15mphI get a few flashes of the ESC but no tramping (and the roads were slightly damp today when I was trying this). I think this really does show how tyres can contribute to this issue (as this is 240bhp-ish now!), and uh-oh, more fuel for the Bridgestone bonfire ? I also haven't had any ESC lights in 3rd gear or above, so very happy with how the Vredesteins are doing so far. The car feels properly rapid from 0-50, and I'm sure it's capable of 6.5 to 60I'll try and test this one day. Higher gears are also amazing, I know I am repeating others, but the pull in 3rd6th is now much improved, and the power stays there to 4000 should you wish to hold a gear rather than change (and 3rd in 4000 should be about as fast as you need in most situations, and 4th in 4000, well… it's dangerously easy to get there!) The best thing about all of this, is it is still an incredibly refined and natural progression of power. I've just done a potter-about errand in the car, using none of the extra power, and you wouldn't know it was modified (save for perhaps 1st and 2nd feeling smoother.) I know the car will still be great at sitting in cruise at 70 or 75 too (which I will aim to do to keep my MPG up with my increased commute.) I don't intend on running the car any higher than +1 as it is plenty for me, and when you do come across someone with issues on one of the VAG forums it's normally related to +2 or +3 (and I double checked with MH his recomemndation was 3+1). I'm actually thinking of adding the pedal box next month, as it seems the logical next step to make the power even more accessible and reduce lag (the pedal lag seems more noticeable to me now the pedal's potential is increased!) So, yepanother resounding thumbs up!
Our website is full of useful information that you may find
interesting or the answer to your questions. If you have a question that you
can't find the answer to please get in touch with the team on our online
chat or 01207 299 538.
oh and the link to the GTD CRD3+ – CLICK HERE
To purchase a CRD3+ tuning box for your Skoda Octavia vRS TDI 184PS then CLICK HERE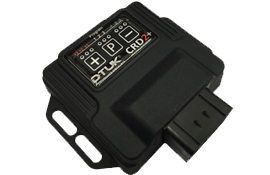 Testimonials
| Product | Model | Engine |
| --- | --- | --- |
| DTUK® CRD3+® DUAL CHANNEL FUEL AND BOOST SYSTEM + DTUK® | Volkswagen | Golf Mk7 GTD 2.0 184PS |
After reading the review below check out this blog post including Rolling road data from a GTD
22nd Mar OK, here it is, done about 40 miles in it since fitment, this is the tri channel CRD3+ box (rated 240PS) Firstly, my car has been running a bit sh!tty in the 50 miles pre-box. Smack in the middle of a spell of DPF regenning, last night I had to give my cousin a jump-start when he flattened his battery in Newcastle City Centre last night and called me up, in prime pub-kicking out time. Spent 20 mins crawling around the 1/2 mile of road surrounding the Central train station, which made things worse and then 10 mins of 2000 rpm idling while he tried to get his sh!tty...
Read More